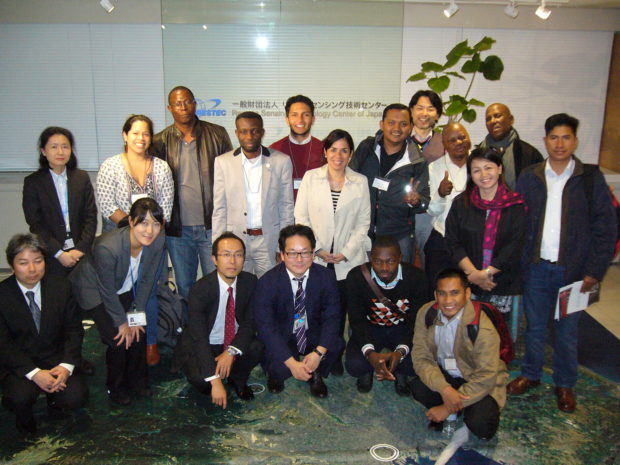 RESTEC organized a training course "Tropical Forest Conservation using the Forest Monitoring System with ALOS-2 Satellite" from October 15 to November 1, 2017, funded by the Japan International Cooperation Agency (JICA).
This course was one of the JICA Knowledge Co-Creation Programs and aimed to contribute to the capacity development and networking of governmental officers who are responsible for tropical forest conservation by remote sensing and GIS, including "JICA-JAXA Forest Early Warning System in the Tropics (JJ-FAST)."
The course included lectures and exercises on remote sensing, GIS and forest management. The participants attended a 3-day international conference, the "Tokyo International Conference on the Forest Governance Initiative ? Improving Forest Governance using Forest Early Warning Systems and Satellite Technologies ?" as a part of the training program. They also visited the International Tropical Timber Organization (ITTO), Tsukuba Space Center of the Japan Aerospace Exploration Agency (JAXA), Mount Fuji Research Institute, and Fujisan World Heritage Center etc. Based on the knowledge and experience gained during the training, the participants developed action plans to incorporate satellite technology into forest management in their countries. They presented and discussed their action plans among each other on the last day of the course.
12 participants from 8 countries, Botswana (1), Colombia (1), DR Congo (2), Gabon (1), Malaysia (2), Mozambique (1), Peru (3), Philippines (1), joined the training course.
Many questions and comments were raised during lectures and exercises, indicating the participants' high level of interest in applying remote sensing to forest management. RESTEC hopes that this training course will contribute to improving forest management policies and activities in each country.