RESTEC has released a new version (version 2.0) of VEGA*1. Version 2.0 included the observation data by Sentinel-1 which carries the Synthetic Aperture Radar (SAR) in addition to the existing optical satellites.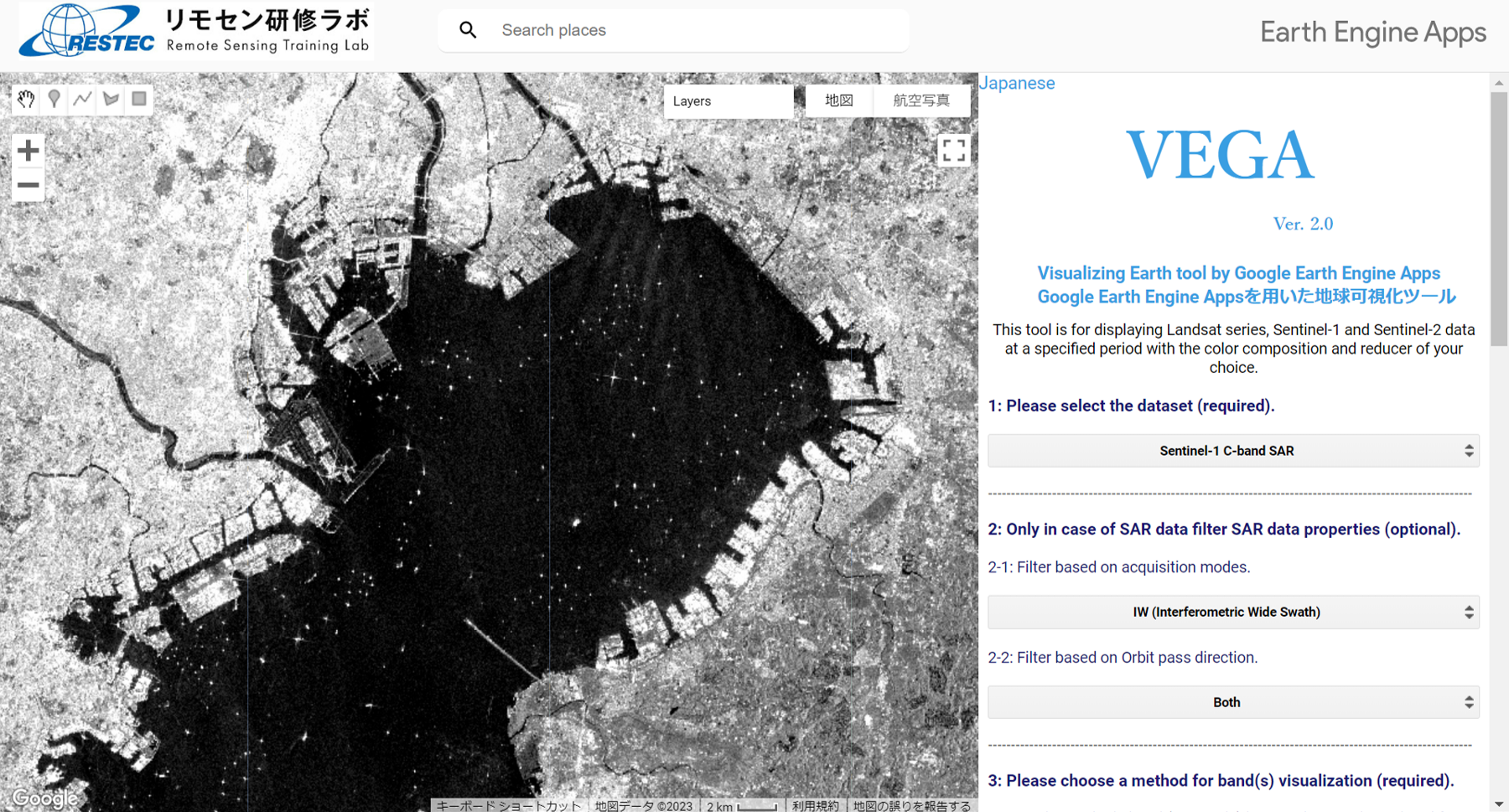 Screenshot of VEGA. Users can visualize satellite data with the control panel on the right-hand side. This image shows Tokyo Bay taken by Sentinel-1 in February 2023. Google and the Google logo are registered trademarks of Google LLC, which RESTEC uses with their permission.
Sentinel-1 is developed and operated by the European Space Agency (ESA) and Sentinel-1A and 1B were launched in 2014 and 2016 respectively. ESA announced the end of the mission for 1B in 2022 but plans to launch 1C in 2023. SAR satellites can obtain information on the ground surface despite cloudy weather as SAR uses radio wave which penetrates clouds.
This improvement makes it possible to visualize almost a 10-year archive of SAR data from 2014 to date. Users can also visualize optical data observed by Landsat-4, 5, 7, 8, 9, and Sentinel-2.
There is no change in the basic operation. Google Earth Engine (GEE) users are usually required to write JavaScript code to visualize any dataset, but VEGA doesn't require any JavaScript knowledge. You can select different options or input them on the control panel. Anybody who has an interest in remote sensing and visualizing satellite data can use VEGA without user registration or signing up.
・Try using VEGA
・User's Manual(latest version)
・Past announcements(version 1.2)
・Past announcements(version 1.0)
*1 VEGA
Visualizing Earth tool by Google Earth Engine Apps
Terms of Use
RESTEC grants users the right to use the 'Visualizing Earth tool by Google Earth Engine Apps (VEGA)' under the following conditions. Note that users shall be deemed to have consented to the content of the Terms of Use upon their use of VEGA.
The copyright and other intellectual property rights of VEGA belong to RESTEC.
Users may not sell, rent or lease VEGA to any third party.
VEGA is provided as is without warranty of any kind and RESTEC makes no warranties of any kind, either express or implied, regarding VEGA, including but not limited to its merchantability and suitability for a particular use.
Any problems that occur with this software shall be resolved at users' own risk and expense.
Users shall exempt and guarantee RESTEC from damage, loss, or liability for claims made to the users by a third party related to the use of VEGA.